Sesquiterpene Lactones and their toxicity to livestock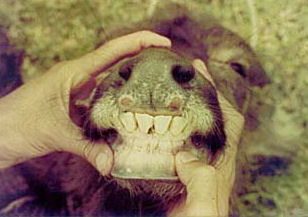 The objective of this web page is to describe the different classes of naturally-occurring sesquiterpene lactones. Because sesquiterpene lactones are responsible for the toxicity of several livestock poisons it is useful to focus on their effects on mammals such as cattle, sheep and horses that are most commonly exposed to sesquiterpene lactone poisoning.
General Description:
Sesquiterpene lactones constitute a large and diverse group of biologically active plant chemicals that have been identified in several plant families. However, the greatest numbers are found in the Compositae family with over 3000 reported different structures.
Sesquiterpene lactones (SQL) are a class of naturally occurring plant terpenoids that are formed from "head-total condensation of three isoprene units and subsequent cyclization and oxidative transformation to produce a cis or trans-fused lactone. Sesquiterpene lactones are characteristic constituents of Compositae. These secondary compounds are primarily classified on the basis of their carbocyclic skeletons into germanocranolides, guaianalides, eudedesmalides, pseudogua! inolides and xanthonolides. The suffix "olide" refers to the lactone function and is based on costunolide, a germanacranoride which is related to the ten-membered carbocyclic sesquiterpene, germacrone.
An individual plant species generally produces one skeletal type of SQL concentrated primarily in the leaves and flower heads. The percentage of SQL per dry weight may vary from 0.01% to 8%. Losses of livestock intoxicated by plants containing SQL are well known. In fact, they have been shown to exhibit a wide range of biological activities.
Representative Structures:
Possible biogenetic relationships of the different skeletal types of sesquiterpene lactones.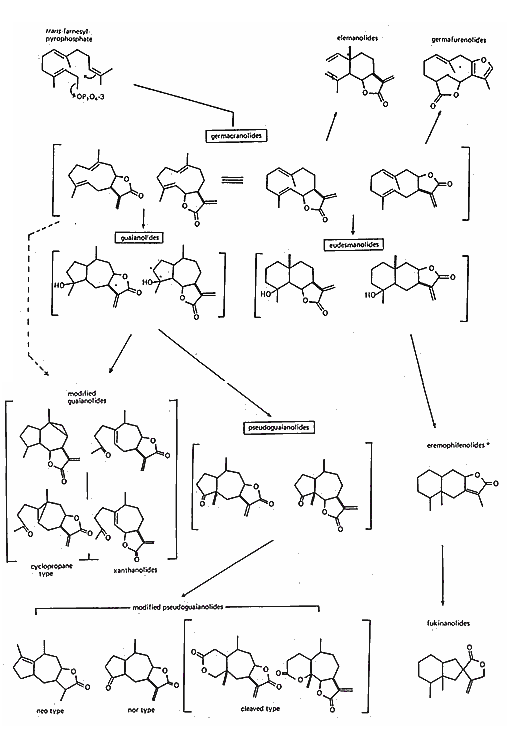 Photo from Sesquiterpene Lactones. Chemistry, NMR and Plant Distribution, University of Tokyo Press.
Distribution of Different Structural Classes of Sesquiterpene Lactones
in the Compositae:
Tribes
(No. of genera)

No. of genera with
sesquiterpene
lactones

Type of lactones present

Eupatorieae
(50)
4
Germacranolides
Elemanolides
Guaianolides
Ambrosanolides
Seco-Ambrosanolides


Vernonieae
(50)

4

Germacranolides
Elemanolides
Guaianolides
Astereae
(100)

1

Germacranolides
Guaianolides
Elemanolides
Inuleae
(100)

5

Guaianolides
Xanthanolides
Ambrosanolides
Helenanolides
Seco-Eudesmanolides
Seco-Ambrosanolides
Germacranolides
Heliantheae
(250)

24

Elemanolides
Guaianolides
Eudesmanolides
Xanthanolides
Ambrosanolides
Helenanolides
Seco-Eudesmanolides
Seco-Ambrosanolides
Seco-Helenanolides
Senecioneae
(50)

4

Germacranolides
Xanthanolides
Eremophilanolides
Helenanolides
Bakkenolides
Anthemideae
(50)

10

Germacranolides
Elemanolides
Guaianolides
Helenanolides
Cadinanolides
Chrymoranolides
Arcototeae-Calenduleae
(50)

1

Guaianolides
Cynareae
(50)

8

Germacranolides
Elemanolides
Guaianolides
Eudesmanolides
Mutisieae
(55)

1

Eudesmanolides
Lactucae
(75)

7

Germanocranolides
Eudesmanolides
Guaianolides
Biological Activity:
The sesquiterpene lactones are highly irritating to the nose, eyes, and gastrointestinal tract. Sheep and goats are the main livestock species affected, primarily because the plants are unpalatable and rarely consumed in toxic quantities by cattle and horses. Sneezeweed poisoning is often referred to as "spewing sickness" because of the characteristic vomiting seen. Affected sheep may have a green stain around the mouth and stand with upturned heads attempting to retain the regurgitated plant material. Vomited material is often inhaled into the lungs, causing either death from inhalation pneumonia or permanent lung damage accompanied by chronic coughing. Primary lesions are gastrointestinal tract irritation, congestion of the liver and kidney, and pulmonary damage.
Since many sesquiterpene lactones are also antimicrobial agents, it is possible that they also exert their action by altering the microbial composition of rumen and thus affecting its vital metabolic function. Hence, rumen dysfunction may contribute to the toxicity caused by sesquiterpene lactones in livestock. They are also neurotoxic; a SQL, repin, has been implicated in causing a syndrome similar to Parkinson's disease in horses.
Livestock poisoning from foraging on bitter tasting plants of the family of Compositae is well documented. Besides its deleterious effects on domestic animals, it is well reported that many Compositae plants containing sesquiterpene lactones are also toxic to wild animals.
The toxicity of sesquiterpene lactones is due to binding of the exocyclic methylene group with tissue constituents, such as sulphydril groups and other nucleophilic components.
Sesquiterpene Lactones present in Species of Compistae Poisonous to Animals:
Plant

Sesquiterpene lactones

Species affected

Baccharis cardifolia
Tanacetum vulgare
Baccharis oil
Sheep, Cattle

Eupatorium urticifolium

Eupatorin

Cattle, Sheep, Goats
Geigeria sp.
Geigerin, Vermeerin
Sheep
Asteracae growing
in wild state
Herbivorous, animals
in wild state
Hymenoxys
odorata
HymenolideHymenoxin
Odoratin
Paucin
Vermeerin
Hymenovin
Sheep, Cattle
Hymenoxys
richardsoni
Vermeerin
Psilotropin
Sheep, Cattle
Helenium autumnale
Helenalin
Mexicanin-E
Bigelovin
Tenulin
Isotenulin
Sheep, Cattle
Centaurea solstitialis
Cynaropicrin
Horse
Lactuca virosa
Lactucin
Cattle
[General description] [Representative Structure] [Distribution] [Biological activity] [Poisons] [Return to list of toxicants]